And I quote: "SUCH A WAVE OF THEFTS from gas meters is taking place that unlucky householders are paying out £3000 to make good the losses. There are 20 cases of gas meter theft in Manchester per week. Black spots are Chorlton-on-Medlock, Hulme, Longsight and Cheetham.
"A favourite method of the meter thief is to remove the street grating and climb into the cellar.
"The approach of Christmas usually means a glut of thefts' said an official. 'Recently we installed an automatic meter in a shop and within three hours it had been robbed.'"

[from Eyewitness in Manchester]
The internet: source of news and up-to-date information. Useful when you are troubled or have a problem - usually you can find a helpful bulletin board or community who have similar problems. But what do I find? Nowt on google, just this piece of useful reportage - from the Manchester Evening News in 1950. Eee, by gum, you couldn't make it up. Nowt changes, eh? Poor inventive idiots will rob anything. You invent it, they'll rob it.
Yes it's a familiar story, probably. Well, it certainly, suddenly, is for me. As I sit here with my jumper on. Not having a wash. Eating a sandwich for my tea. It's like going camping in my own house. Baaa. Humbuggery.

Here are the facts Mr Call Centre Police Person:
I first noticed that the cooker wasn't working yesterday. I thought I'd broken it by burning too many slices of toast. Or something. Kicking it.
Having generally bad karma these days.
Except, hey ho, wouldn't ya know, the boiler stopped working as well.
No heating (not too bad as yet) no hot water - so no shower. But I can live with that.
Wondered if I'd been cut off, but I have a direct debit so that couldn't be true could it? No.
After a variety of 0845 numbers had put me on hold - I found out that I was okay. Payment wise.
Then the National Grid lady told me to go and turn off the gas at the meter. The meter that was in the cubby hole outside the front door.
Past tense. Was. A big Schrodinger's cat box that is always wedged shut bla bla. A big empty space full of spiders, dust and that meter thing. And maybe a dead cat, who knew? Except even the dead cat had been stolen. But I can confirm that the gas does work. I turned it on and heard it hiss. I was tempted to check it with a few matches. Just for a laugh. Yeah, definitely gas....
So many phone calls later... still no gas. Hopefully tomorrow. That's okay. I'll just sit here on hold randomly googling images of gas meters. But won't it just get stolen again tomorrow?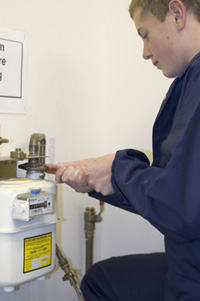 So. The *BIG* Why?
 Scrap metal? Maybe.

The 2 meter bill solution. More likely. You have your gas meter attached when the Meter man comes round. You have MY meter attached when you've got the boiler burning away and you're roasting a thousand chickens. Bastards.
So now I'll probably get a bigger bill cos they won't believe that I don't actually cook that often. O lorks. Not fair. I want 2 meters. Or just no meter. Maybe I'll just do without gas. Too expensive. I'll eat salad and walk around the house shrouded in blankets. That would be fine, wouldn't it? I wouldn't get a reputation as an eccentric I shouldn't think... baa
In other news in 1950 Manchester:
"ARTHUR RANK met 170 local independent cinema proprietors and managers today, and discussed the problems of film exhibition and distribution...  He did not believe that television was a threat to the cinema. On the contrary, it should definitely encourage it. His organisation was ready to introduce big screen TV in cinemas as soon as the government permitted him to televise on a private channel. Of exhibitors, he said they were not selling British films as well as they might."
[from Eyewitness in Manchester]

What a load of J. Arthur Rank...

p.s. if anyone uses my IP Address to track down my location so that they can steal my gas meter again, be assured that I will use G00gle Analytics to hunt you down and have a very serious angry word with you.
p.p.s. If anyone has any information about the three likely suspects pictured above - caught on my meter cctv cameras - staring intently at my gas meter - in recent weeks - please contact me. I am offering a SUBSTANTIAL reward for the recovery of my Gas Meter. She answers to the name Gassy & has extreme agrophobia...